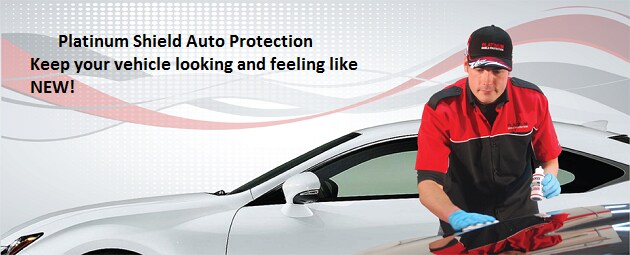 Let us help you Preserve your vehicle's resale value and protect it from interior mishaps like spilled food, vomit and cuts from sharp objects. Remember Rust Never Sleeps so we can help you protect your vehicle's undercarriage and paint from harsh winter conditions.

1. Platinum Shield Undercoat Protection Package: Protects your vehicles most vulnerable and high-impact areas. Seals out moisture and protects against road salt. Plus it helps deaden road noise and vibrations with it's blanket protection.

2. Platinum Shield Fabric and Leather/Vinyl Protection Package: It stops liquids from soaking in and repels dirt on your seats. Keeps your leather/vinyl  interior from cracking and fading from the sun and body oils.

3. Platinum Shield Paint Protection Package: Guarantees against excessive discoloration, fading or oxidation caused by sun and road salt.  It's durable finish leaves the surface smoother and no need to wax.

4. Platinum Shield Corrosion Control Module: Guarantees against rust perforation that occurs from the inside out. A new environmental approach to winning the war on rust! Keeping your vehicle looking sparkly and new.

At Harris Kia we are proud to offer all of our clients these great new products to keep your vehicle looking and feeling just like New!
Ask for our Business Manager Jan for more information on these products.

Call: 1-250-751-1168 or email: Kia.Sales@harrisauto.ca