[Automobile Mag] First Drive: 2017 Kia Niro
January 2nd, 2017
"The latest offering from Kia is about the size of a Fiat 500X but bears a subtler design than the Italian as well as other hybrids in its class, which should increase its appeal among individuals with more conservative tastes."






SlashGear] 2017 Kia Soul Turbo first drive and review
December 27th, 2016
"Did I mention that the Soul's a fun and well-rounded car? Well, it's now all that and zippier to boot. The next model year's top tier trim now features a 1.6-liter turbocharged engine, mated Kia's similarly new a seven-speed dual-clutch transmission (DCT)."
04/02/2015 
NEW YORK, Apr. 1, 2015 - Five years ago the re-designed Optima debuted at the New York International Auto Show and introduced a game-changing intermediate sedan that catalyzed the brand's design-led transformation.  History was repeated when the all-new 2016 Optima, a symbol of the Kia brand's maturation through continuous refinement and obsessive attention to detail, made its debut here today.  Conceived under the watchful eye of Kia's president and chief design officer, Peter Schreyer, with modern and instantly recognizable design cues, the Optima maintains its athletic identity but rides on a chassis that is longer, wider and stiffer for improved ride and ...
03/23/2015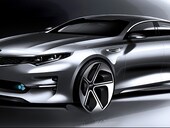 (SEOUL) March 19, 2015 - Following its debut at the New York International Auto Show in 2010, the Kia Optima became a catalyst for the brand's tremendous growth and has been the company's best-selling vehicle in the U.S. for three years running. Now, five years later, Kia will return to New York on Wednesday, April 1 for the world debut of a passionately designed and obsessively crafted all-new version of its popular midsize sedan.
09/10/2014